How long does a thatched roof last?
A thatched roof will last between 20 to 30 years before it needs re-thatching; this will depend on the reed used.  At RJ Matravers we use either Water Reed or Combed Wheat Reed that we've harvested ourselves.  The Water Reed is typically said to last the longest.
We'd recommend inspecting the thatch ridge at 10 years, at which point we'll suggest any repairs or rebuilding if required.
Will trees effect my thatched roof?
We'd ideally recommend that no trees are allowed to grow in close proximity to the thatch as this can hinder drying out, following wet weather and exposure to the sun.  Many of the properties we visit, however have trees under conservation orders and so cannot be cut – we're used to these conditions and will take this into consideration when quoting and/or advising on any work.  Proximity of trees to thatch roofs can also lead to birds, squirrels and other animals getting to the thatch and causing damage.  Bird feed can attract rodents near to the house so keep this away from your home.
What if my roof needs work?
Do not allow any other workmen on the thatch,  or to use the ridge as a working platform.  Placing ladders against the thatch or to walk / move across the thatch  can cause damage; should any other work need to carried out, we'd advise consulting with us prior to instructing any other tradesmen to commence their work.
Can you advise me on what needs doing?
If you believe your roof is showing signs of wear, for example any of the below;
visible holes / thinning patches of thatch / worn back to swathes
moss and/or lichen growing on the thatch
flashings around chimneys coming away
Reuben and his experienced team will visually asses the thatch, measure and check it's depth to see how much life is left in it and provide advice on whether any work is required and provide a quote.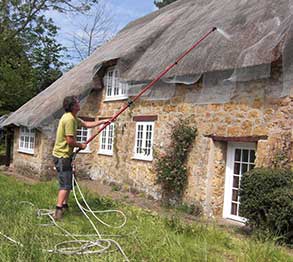 NEW • NEW • NEW
Algoclear Pro
The sustainable way to clean thatch safely and effectively.
The benefits of Algoclear :
• It kills the biofilm
• Does not oxidise or interact with material and metabolites
• Its safe to use

Treatment time:
 Treatment time is due when the first moss balls appears; this will vary site to site.
Following consultation with Master Thatchers, treatment is best carried out at year 3 on a new roof of north facing elevation and a year later elsewhere.
See more about Algoclear below
AlgoClear on Thatch guide Feb 2019