Meet Reuben and his team…
Reuben Matravers started his career in thatching by completing a 4 year apprenticeship at Knuston Hall, Wellingbough. On completing the course in 1990 he formed RJ Matravers Master Thatcher. Since 1990 the company has grown and has a reputation of great master craftmanship with his team of 4 thatchers carrying out work across Somerset, Devon and Dorset.
RJ Matravers is a member of the National Society Of Master Thatchers.
This entry procedure ensures that the very highest quality standards, of craftsmanship are maintained and clients can have confidence in thatchers who demonstrate Society membership as part of their in-house business promotion.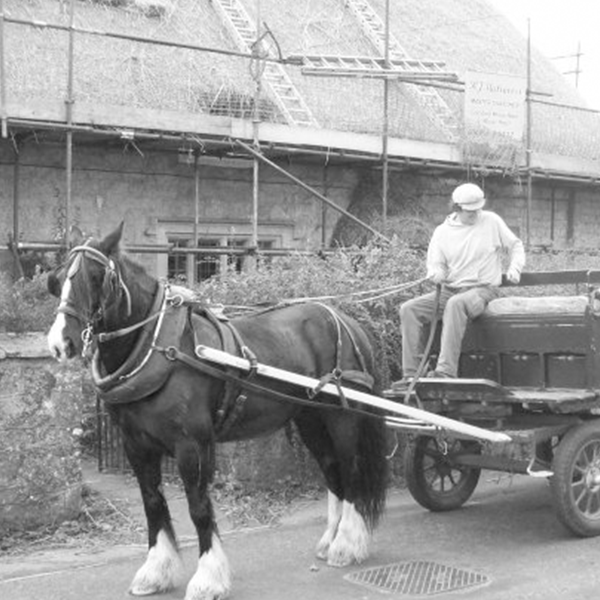 "Personable, honest and professional"
"I was fortunate to find Reuben Matravers, his team (including terrier dog) via the Internet back in 2016. Reuben in very personable, honest and professional at what he does; a true Master Thatcher. Reuben completed re-thatching of half the roof (prevailing weather side) of my cottage in Somerset during the Summer 2016 advising that the other side had at least 8 years life left. I appreciated that. The site was thoroughly cleaned up of old thatch and debris afterwards.
Certainly not cheap (no thatcher is) but certainly reasonable for the quality of work and more competitive than other thatchers from whom I had requested quotes. I would highly recommend Reuben for all thatching work.

"Without hesitation, we'd employ RJ Matravers again"
"My wife and I have lived in thatched property continuously now for 30 years and we have been in our current thatched property in Kingsbury Episcopi, Somerset for 21 years.

We first engaged R.J. Matravers Ltd. to renew the ridge on our property in 2005 which they undertook effectively, on time, tidily and at a competitive cost.
In 2014, when the rear portion of our roof required complete rethatching we did not hesitate in engaging R.J. Matravers Ltd. to carry out the work which they did over a period of several weeks to our entire satisfaction. As and when we need any further work on our roof we will, without hesitation, employ this firm again.

Yours faithfully,
Mr R Wykes
"Many people have commented on how lovely the thatch looks when they walk past"
"I just wanted to say how pleased we are with the thatching you did and how lovely we found you all to have around. The guys worked so hard in less than perfect conditions and were always polite when I'm sure they would rather have been anywhere except on our roof! Many people have commented on how lovely the thatch looks when they walk past – so thank you very much Reuben. "
Annie Laing
"We could not have found a nicer more professional company of exceptionally talented craftsmen anywhere else"
They have produced the most beautiful thatched roof, with a very special ridge for us and been accommodating throughout the work. It has been deemed the best roof in the village by many of the locals.
Lin Lloyd